Cadillac Escalade ®
48-Month / Unlimited Mileage Powertrain Warranty*

Cadillac Escalade® is proportionally correct Custom Electric Vehicle made by ACG.
Cadillac Escalade® features officially GM licensed design and styling.
Cadillac Escalade® includes standard features such as 16-inch Cadillac Escalade® wheels, aluminum I-beam chassis, genuine Cadillac Escalade® chrome grill, headlights and taillights, turn signals, and fog lights.
Cadillac Escalade® is the highest quality, most affordable and highly noticeable Golf or Estate Car available today.

Click image for larger size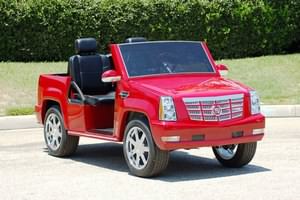 Also available as Limo - Click the link below to navigate to detailed web page.
---
See available Options - Click the link below to navigate to detailed web page.
---
See ACG Cadillac Escalade Gallery - Click the link below to navigate to detailed web page.
Luxury Custom Electric Vehicle that is reasonably priced
ACG Inc ., the recognized leader in affordable Custom Electric Vehicles, is pleased to introduce the all-new Cadillac Escalade®.
Whether you are going to the golf course, the market, or simply out to enjoy a beautiful day, the Cadillac Escalade® is your elegant choice for affordable luxury.
ACG, Inc. has revolutionized the Electric Vehicle Industry by re-inventing the increasingly popular Golf and Community Car platform from the ground up.
The Cadillac Escalade® was built with purpose and reliability in mind.
Our dual purpose platform allows you to transform your Cadillac Escalade® from a community vehicle to being the envy of everyone on the golf course with an easy to use hand- release golf bag attachment.
Elegant Cadillac Design
The quality of the Cadillac Escalade® begins in the engineering of the car from the ground up.
The Cadillac Escalade® is built using completely new parts.
The frames are made from rugged and corrosion-proof all aluminum I-beams.
The Cadillac Escalade® uses a long lasting 48-volt system to ensure maximum range using industry leading Traction batteries managed by the SEVCON computerized controller.
The Hi-output 17.5 peak horsepower AC motor is powerful enough to move you and your passengers up hill and yet it is efficient enough to deliver a higher range than the industry average.
The Cadillac Escalade® also features an on-board 12-volt converter that gives you an in-dash power source to power you cell phone or laptop computer.
For added safety, the Cadillac Escalade® has been outfitted with standard headlights, brake lights, turn signals, horn and is the only golf cart to feature a standard 4-wheel braking system, which includes the use of front wheel hydraulic disk brakes.
With all of the standard features that have been engineered into the Cadillac Escalade®, ACG, Inc. has reset the bar in the Custom Electric Vehicle industry to a level that has never before been seen and that other companies can only hope to come close to.
All 2015 Model Year ACG Golf Cars are now covered by exclusive 48-month / unlimited mileage Powertrain Warranty*.
(* see Warranty Manual for details).
Uncompromising Luxury
With fine standard appointments such as a simulated Burl wood accented interior, the Cadillac Escalade® Golf/Estate Vehicle from ACG, Inc. is designed and to be the finest golf car available on the market.
Other standard features include a color matched grill, locking simulated burl wood glove box, and chrome 16" wheels.
From project inception to development, ACG, Inc. has worked closely with Cadillac to construct the car with the meticulous detail that the Cadillac Escalade® Golf/Estate Vehicle commands and deserves.
Available as a standard 4 seat model or an extended 6 seat limo model, the Cadillac Escalade® can only be licensed by Cadillac and can only be built by American Custom Golf Cars, Inc.
The Cadillac Escalade® is available with a multitude of options to increase your driving comfort and pleasure.
It also has available leather interior upgrades, hidden AM/FM CD players, a hard top to protect you from the sun and even full multimedia systems that include DVD players and flip-down monitors.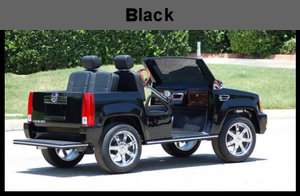 ---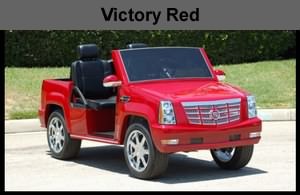 ---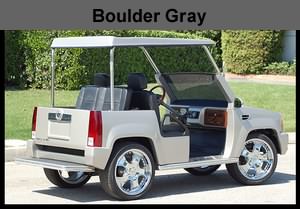 ---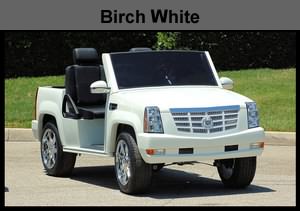 ---
Custom Paint
The Cadillac Escalade® is also available with customized paint and graphic schemes to promote your company or just add that special personal touch to your vehicle.
SPECIFICATIONS
Overall Length
129 Inches
3276 mm
Overall Width
63 Inches
1600 mm
Height to top of Windshield
59 Inches
1500 mm
Wheelbase
78 Inches
1980 mm
Ground Clearance
7.2 Inches
182 mm
Weight
(standard vehicle no batteries)
541 lb.
245 Kg
Weight
(Curb, with Batteries)
1,220 lb.
553 Kg
Weight
(GVWR)
2,000 lb.
907 Kg
Wheels
Front
16"x7.5"
Wheels
Rear
16"x7.5"
Tire Size
Front
205/55 R16
Tire Size
Rear
205/55 R16
Brakes
Front
Hydraulic Disk
Brakes
Rear
7" Mechanical
Drum Type
Drive Motor
Direct Drive
48 Volts
3-phase AC, 17.5 hp
Transaxle
Double Reduction
high speed gears
Electrical System
48 volts DC
Batteries
Six (6) @ 8V each
in series = 48V DC
Battery Charger
On Board
Delta-Q
Speed Controller
SEVCON Gen4
450 Amp Continuous
Steering
Rack and Pinion
Chassis
Aluminum I-Beam
Body
One-piece
Fiberglass Composite
Body Finish
Automotive Paint
Interior Material
Marine-type Vinyl
Carpet
Marine-type Synthetic
Forward Speed
<15 MPH (eGC)
Braking Distance
(from 12 mph)
<8 feet
Standard Seating Capacity
2 (eGC)