Delta-Q QuiQ 1000 Charger
Charger shown on this page is available for all Model Years of ACG Golf Cars.
---
The Delta-Q QuiQ™ 1000 HF/PFC Battery Chargers has been designed to provide reliable, quality charging for battery systems in electric drive vehicles.
These 1 kW units are available in 24, 36, 48, 72, and 96 V-DC configurations.
This particular one that is used as Standard Equipment in ACG Vehicles is a 48-volt unit.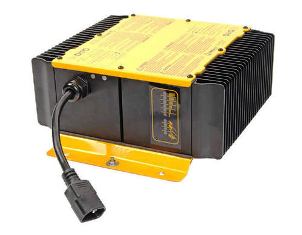 Delta-Q QuiQ 1000 48-volt Onboard ACG Golf Car Charger
Universal Input
The QuiQ 1000 is designed with a wide input voltage range from 85 – 265 VAC, making it an ideal choice for any worldwide application.
Power Factor Correction and 12A maximum current draw ensures the charger will work reliably from any power outlet in the world, even through utility surges and sags.
Standardizing on a single universal model reduces component count, saving vehicle manufacturing and service inventory management costs.
SAE J1772 Charging
This charger is already capable to utilize all Public and Private Charging stations that are designed to the SAE J1772 Standard.
All you need to make such charging possible is to Order the Optional SAE J1772 Inlet for your ACG Vehicle.

Click the link below to navigate to detailed web page.
SAE J1772 Option
Charge Algorithms
The QuiQ 1000's microprocessor controller can store up to 10 Delta-Q developed and fully optimized charge algorithms.
Delta-Q has designed algorithms for many types of batteries, and is constantly preparing algorithms for new battery types, sizes and chemistries.
ACG configures chargers with the most appropriate set of algorithms for each ACG Vehicle application that is matched to the Traction Battery that is originally installed into the particular ACG vehicle.
ACG Manufacturing and Field Service personnel can easily toggle between algorithms and, with field reprogrammable chargers, download new algorithms into the charger, if necessary.
Rugged Design
The QuiQ 1000is built for onboard vehicle operation in harsh environments.
Its rugged, lightweight and intelligent design provides continuous operation in any application.
High efficiency power conversion allows the QuiQ 1000to be delivered in a fully sealed enclosure, making it ideal for onboard applications in the dirtiest and wettest environments.
Reliability is increased by absence of any moving parts.
Reduced Operating Costs
The high-efficiency design and near unity Power Factor combine to make the QuiQ 1000 charger extremely grid-friendly.
Over 88% of power taken from the grid is converted to real power to charge the battery.
This not only saves users over 30% in raw electricity costs when compared to ferro-resonant chargers, but avoids Power Factor surcharges from utilities as well.
Regulatory Compliance
All Delta-Q chargers are UL and CE compliant and have passed stringent EMI, safety, vibration and water ingress protection (IP) tests.
The QuiQ 1000 offers leading-edge efficiency, power factor correction and GFCI compatibility for safe and reliable operation.

All Delta-Q chargers also meet CEC (California Energy Commission) requirements.
Warranty
The warranty is for one year from the date of purchase.
Manuals
Link to Delta-Q Manuals and Videos on ACG Manuals web page

Delta-Q Manuals
---
Other Applications
You can order Delta-Q Chargers for other applications and other non ACG Vehicle applications.
We are provider for replacement chargers for the FORD Th!nk.
Contact ACG for consultation, so we can select the proper charger for your specific needs.